List of recipes using "Blackcurrant":
6 recipes

(alcohol-free)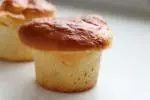 These brioche pies look like muffins with their "mushroom" tops. They are filled with quartered apples and a little blackcurrant jelly.
8,191
4.5/5 for 2 ratings 2 hours 55 min.

Vanilla-lime, confectioner's custard and blackcurrant coulis, topped with a layer of whipped cream (chantilly) and dusted with a little matcha green tea powder. Light and flavoursome.
56,920
4.9/5 for 19 ratings 1 hour 9 min.

Blackcurrant muffins with a rather special ground almond dough. Blackurrants give a delicious hint of acidity, which goes very well with the almond flavour.
82,688
3.8/5 for 17 ratings 49 min.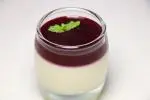 These light and flavoursome lemon creams are "set" by the curdling action of the lemon juice on the heated cream, so no thickening agent is needed. They are served in individual glasses, topped with a layer of fruit coulis (blackcurrant here).
3,787
4.1/5 for 16 ratings 41 min.

This is a glass of pannacotta, with a layer of blackcurrent coulis, and a crunchy almond crumble scatterd on top.
72,866
3.8/5 for 17 ratings 1 hour 22 min.

Blackcurrants make a very good coulis, but it's a bit more difficult than with other fruits. Here is a simple method to help you succeed.
100,181 2
3.5/5 for 2 ratings 25 min.