List of recipes using "Custard cream":
3 recipes

(alcohol-free)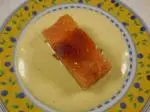 Imagine a sweet terrine, made of layers of apples with sugar, cooked slowly in the oven until caramelized. Serve warm in slices with custard.
12,454
4.1/5 for 19 ratings 3 hours 28 min.

Cold grapefruit quarters with slices of hot caramelized pineapple, lime custard (crème anglaise) and citrus crunch.
94,572
4.6/5 for 14 ratings 2 hours 5 min.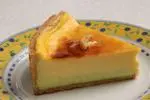 This is a delicious version of the classic French baker's "flan", with the twin flavours of lemon and lime. It involves two different confectioner's custards poured one on top of the other. This gives an attractive layered effect when the tart is cut. Not just pretty, it is delicious.
2,052 3 hours 13 min.