List of recipes using "Small bread":
6 recipes

(alcohol-free)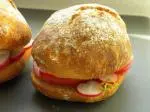 Pan Bagnat is a traditional recipe from the Nice area. The name means "soaked bread", as it consists of a round bread roll that has been drenched with a mix of oil and vinegar then filled vegetables and fish. Years ago this was the snack that fisherman took with them on their boats, but this is a...
38,083
4.1/5 for 10 ratings 43 min.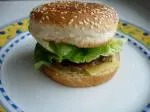 Hamburgers don't have to be the greasy flabby things you find in fast-food outlets, well-made they can be excellent. It's a very convivial recipe as everything goes on the table, and everyone assembles their own burger according to personal taste.
88,573
4.8/5 for 20 ratings 33 min.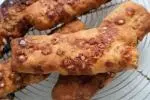 This curious name (explained below) applies to a small bread fingers made with a blend of wheat and rye flour, enriched with raisins and almonds.
4,563 4 hours 32 min.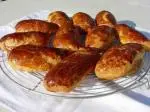 Here is a recipe for "real" chocolate petits pains, i.e. with a milk bread dough (not croissants dough) and with a stick of chocolate inside.
107,816
4.6/5 for 18 ratings 5 hours 27 min.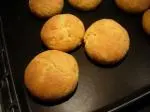 These small round baps are made with a mix of wheat flour and fine cornmeal. The dominant corn gives a moist and very yellow crumb.
85,343
4.3/5 for 15 ratings 5 hours 53 min.

When you are have mastered the basic leavened bread, you certainly ought to try special breads: with nuts, cheese, seeds, etc... Here is a series of recipes, based on traditional leavened bread.
79,255
4/5 for 20 ratings 6 hours 26 min.