List of recipes using "Dessert":
12 recipes

(alcohol-free)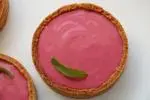 These little tarts taste every bit as good as they look. The sweetcrust pastry cases are filled with a layer of stewed apple and topped with a blackcurrant crémeux. This offers your guests a delightful element of surprise, as the apple flavour is only discovered as they eat it (but only if you've...
674 2 hours 8 min.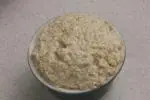 A rice pudding with a difference: it is cooked the classic way and left to cool. Whipped cream is then gently folded in to give a light-textured and original dessert.
1,348 2 hours 50 min.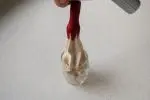 In France, chestnut mousse is sometimes called "Mousse Mont Blanc". It is a delicious combination of whipped cream with chestnut purée, traditionally mixed in very gently. Here is a simple, rapid version, made with a cream whipper.
776 9 min.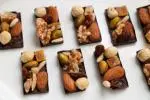 Mendiants are made with a thin layer of chocolate, stuck with toasted nuts, dried and candied fruit.
988 1 hour 2 min.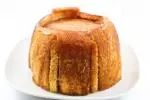 This "Comtoise" charlotte, inspired by the Franche-Comté region of eastern France, is a more rustic take on the famous dessert. It is made with sliced bread, lightly buttered and fried, then filled with sugared apple pieces, drizzled with clarified butter and baked.
1,865 1 hour 32 min.

Behind this strange name there lurks a delicious traditional English dessert made of meringues, strawberries and cream.
53,854
5/5 for 13 ratings 4 hours 55 min.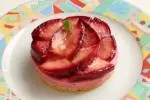 Superb little tarts, bursting with summer flavours: a Breton sablé base, a blackcurrant crémeux, and topped with slices of vineyard (or blood) peaches, every bit as delicious as they are colourful..
685 4 hours 19 min.

This is a glass of pannacotta, with a layer of blackcurrent coulis, and a crunchy almond crumble scatterd on top.
73,667
3.8/5 for 17 ratings 1 hour 22 min.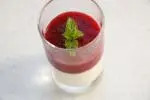 The combination of plums and almonds is always a winner. Here's a version that uses almonds to make a delicious panna cotta with a difference.
2,012 3 hours 25 min.

Small choux pastry puffs, filled with vanilla ice cream and topped with a rich smooth chocolate sauce.
90,219 1
4.5/5 for 2 ratings 1 hour 35 min.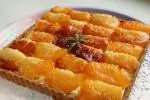 This tart is every bit as good as it looks: a sweetcrust pastry case baked blind, then filled with diplomat cream and topped with apples cooked tatin-style, long and slow in butter and sugar until they caramelize.
1,651 2 hours 18 min.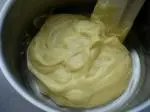 Quite similar to crème anglaise but much thicker. It is used in many pastries like choux pastry (pâte à choux) or millefeuille.
296,919 30
3.8/5 for 39 ratings 36 min.