List of recipes using "Pears":
8 recipes

(alcohol-free)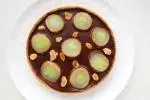 Thick slices of poached pears in a blind-baked sweetcrust pastry case, their centres filled with mint-flavoured confectioner's custard, and surrounded by a chocolate cream, set by baking briefly in the oven. The flavours of pears, chocolate and mint work perfectly together to create a truly...
953 2 hours

A layer of light lime cream and caramelized pears in a crisp pastry case, topped with Italian meringue, which is browned under the grill or with a flame.
74,763 2
3.8/5 for 17 ratings 2 hours 36 min.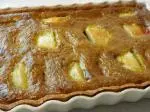 A sweetcrust pastry case filled with pistachio cream, topped with pear and grapefruit slices.
20,292
4.3/5 for 15 ratings 1 hour 37 min.

Samosas are small parcels of filling wrapped in brik (or filo) sheets and either shallow or deep fried. Here is a sweet version, with pears and caramelised walnuts.
101,494
4/5 for 1 ratings 1 hour 21 min.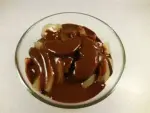 Poire Belle Hélène is a fairly simple cold dessert. The pears are poached in a vanilla-flavoured syrup, then served on top of vanilla ice cream with hot chocolate sauce poured over.
12,704
4.7/5 for 19 ratings 1 hour 46 min.

Pear halves sautéed in butter and sugar served with real custard (crème anglaise) and a reduced blood-orange syrup.
48,647
3.7/5 for 11 ratings 1 hour 4 min.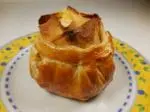 This dessert, named after a small town in Normandy, consists of a pear filled with confectioner's custard (French pastry cream), which is wrapped in a pancake and puff pastry, then baked. The "douillon" part of the name comes from a warm coat, the "douillette", of former times.
13,187
4.3/5 for 19 ratings 1 hour 3 min.

Stewed pears are not as easy to prepare as stewed apples, as they contain more juice and you risk ending up with more of a coulis than a compote. So here are two simple methods to help you succeed.
29,237
4.3/5 for 15 ratings 37 min.