List of recipes using "Rillettes":
4 recipes

(alcohol-free)

List of recipes using "Rillettes"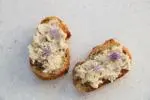 This recipe for mackerel rillettes (or potted mackerel) starts with poaching the fish. The flesh is then taken off the bones and forked into a seasoned mixture of butter, mustard, cream and lemon juice. In France this is traditionally eaten as an aperitif snack, served on small slices of toast.
28K
1 hour June 19
th
2019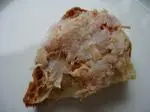 Potted meat (rillettes) is cooked long and slow in fat. Rillettes can be of pork or duck. Here is the pork version.
381K
2
5
6 hours 46 min. October 3
rd
2019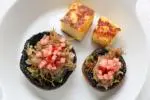 In this recipe, the mushroom caps are first sautéed, then filled with fried onions and a spoonful of rillettes, then baked in the oven. Here they are served with a quick pickle made from brunoise radishes with tarragon.
21K
3.8
58 min. August 6
th
2017

Quick to make, delicious as an aperitif.
177K
5
17 min. February 21
th
2011