List of recipes using "Caramelized":
11 recipes

(alcohol-free)

This "classy restaurant" style dessert consists of a sort of dish made of caramelized brioche filled with a mix of pear compote and kiwi salad with vanilla, served surrounded by real custard (crème anglaise).
26,834 1
5/5 for 1 ratings 45 min.

Cold grapefruit quarters with slices of hot caramelized pineapple, lime custard (crème anglaise) and citrus crunch.
93,956
4.6/5 for 14 ratings 2 hours 5 min.

Millefeuille is one of the best pastries available, if it is well made, i.e.: 2 layers of light vanilla cream between 3 layers of fine crispy (possibly caramelized) puff pastry.
86,946
4.6/5 for 5 ratings 1 hour 42 min.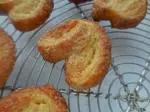 Palmiers are a traditional French patisserie, consisting of folded puff pastry caramelized with sugar. These small versions are made with the shop-bought puff pastry that comes ready-rolled in a circle.
15,900
5/5 for 1 ratings 39 min.

Samosas are small parcels of filling wrapped in brik (or filo) sheets and either shallow or deep fried. Here is a sweet version, with pears and caramelised walnuts.
101,194
4/5 for 1 ratings 1 hour 21 min.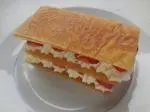 A millefeuille (which in french means "thousand sheets") is a delicious pâtisserie consisting of layers of puff or flaky pastry (pâte feuilletée) sandwiched together with cream, fruit, etc. In this recipe, we will be using sheets of caramelized brik or filo, which makes a delicious, light...
10,596
5/5 for 1 ratings 48 min.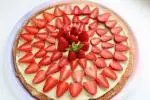 This elegant French dessert is not quite a tart. The base is a circle of puff pastry baked and caramelized, then topped when cold with a thin layer of lime-flavoured confectioner's custard and beautiful fresh strawberries.
5,171
3.8/5 for 11 ratings 43 min.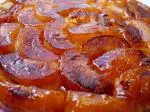 Tart tatin is one of the great classic desserts of French cooking. It's an apple tart cooked upside down. Apples are cooked in sugar until they caramelise. Then a circle of puff pastry is put on top, and the whole tart is baked at 356°F (180°C) for 20 minutes. To serve, the tart is turned over so...
86,864 1
3.8/5 for 4 ratings 1 hour 17 min.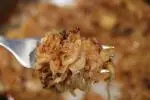 Onion fondue is a delicious classic of French cuisine: finely-sliced onions, cooked long and slow until they are melting and caramelized. This can be used in many other recipes.
1,131 50 min.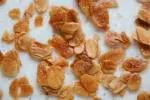 Toasted flaked almonds are the perfect finishing touch for desserts, ice creams in particular, because of their delightful crunch.
52,303
4.8/5 for 20 ratings 27 min.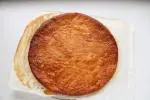 When puff pastry is caramelized to use in patisseries like millefeuille, French chefs call it a "feuilletage" (which means "lamination" or "leafing"). This is baked on its own before being assembled with cream, fruit, etc. The baking needs to be carefully managed: the pastry should puff into layers,...
8,032 2
5/5 for 20 ratings 36 min.