List of recipes using "Upside down":
3 recipes

(alcohol-free)

These look like perfectly normal boiled eggs, but when the shell is cracked open - surprise! They contain a mixture of scrambled egg, cured ham, fried prawns and chives.
48,256
5/5 for 13 ratings 51 min.

Crème caramel (upside-down caramel cream) is a classic of bistro cuisine. The vanilla cream is made with eggs, cooked in a dish with a layer of caramel in the bottom, and placed in a bain-marie. It's traditionally served turned out so that the liquid caramel runs down over the cream.
68,931
5/5 for 2 ratings 3 hours 33 min.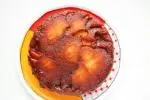 With a flavour reminiscent of the French classic tart tatin, this cake is made with a ring of tart apples arranged on a layer of caramel, then covered with the batter. After baking, the cake is turned out while still hot so that the caramelized apples are on the top with the moist cake underneath.
5,783
5/5 for 1 ratings 1 hour 46 min.