List of recipes using "Langoustines":
3 recipes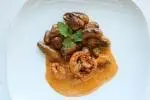 The langoustines in this recipe are cooked in two stages: boiled briefly in salted water, then sautéed before being spiced and flambéed in cognac. They are served here with a creamy sauce and potato grenaille.
6,537
5/5 for 13 ratings 1 hour 9 min.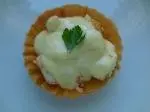 For this recipe, the tart cases are made with sheets of filo pastry. These are filled with langoustines coated in a delicious lime-flavoured sabayon.
14,245
3.8/5 for 10 ratings 1 hour 6 min.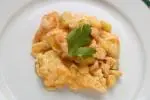 For this dish, the langoustines and asparagus tips are sautéed bafore being mixed with the beaten eggs and finished like scrambled eggs.
2,501 50 min.