List of recipes using "Bounty":
2 recipes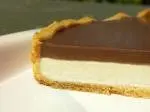 This Bounty-style tart combines, as you might expect, chocolate and coconut in a sweetcrust pastry case.
32,106 1
4/5 for 1 ratings 1 hour 34 min.

You will no doubt be familiar with Bounty, the chocolate-covered coconut bar. Here's a melt-in-the-mouth version "on a plate" for a chic dessert.
43,535
4.6/5 for 19 ratings 1 hour 54 min.