List of recipes using "Cookies":
2 recipes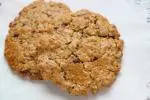 A traditional American recipe for homely biscuits, which can be made in different flavours or with additions (seeds, dried fruit, nuts, chocolate, etc.).
99,308
4/5 for 6 ratings 1 hour 49 min.

These cookies made with lime and almonds are a sure-fire hit with children. They enjoy the amusing shape, of course, but also the delicious flavour.
27,098
4.1/5 for 16 ratings 3 hours 35 min.