List of recipes using "Dry grape":
3 recipes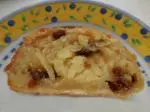 Apple strudel is a traditional pastry from central Europe. It is like a large apple turnover, usually served in slices. Here is a version with apples, walnuts, almonds and rum-soaked raisins.
10,592
5/5 for 2 ratings 1 hour 32 min.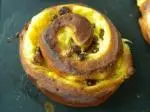 This classic French "viennoiserie" is a sweet bun containing confectioner's custard (crème pâtissière) and rum-soaked raisins. It demands a bit of skill, but is not too complicated.
31,100
4.8/5 for 20 ratings 2 hours 37 min.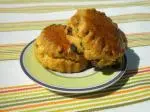 Scones originated in Britain and Ireland. The Irish version is often made plain and traditionally served with tea. Scones are more of a bread than a cake, eaten split in half and spread with butter or jam, for example. There are also sweeter versions and scones with dried fruit, like the ones I have...
36,816
4.2/5 for 20 ratings 48 min.