List of recipes using "Fondue":
7 recipes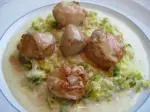 In this very creamy dish, the scallops are pan-fried, then the leeks fondue is added to absorb all the flavours.
70K
2
4.6
23 min.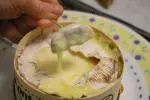 You may already have come across the Mont d'Or hot box recipe, where the cheese is baked in the oven then poured over potatoes. Here's a version with a twist: crispy ham-wrapped potato wedges to dip in the box of melted cheese.
2,421
1 hour 45 min.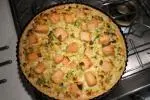 This delicious, creamy tart is full of flavour: big chunks of salmon marinated before cooking and laid on a bed of leek fondue in a shortcrust pastry case. You'll love it!
2,114
48 min.

The duchess potatoes are poached in a roll before being sliced and fried. They are served in alternate layers with slices of sausage, also cooked in two stages (boiled then fried), then topped with a fondue of Mont d'Or cheese.
70K
3.9
2 hours 13 min.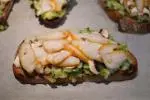 These tartines are built up with layers of leek fondue, sliced raw mushrooms and smoked haddock, then popped in the oven for a few minutes.
1,424
31 min.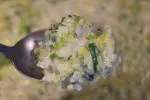 Leek fondue (literally "melted") consists of finely sliced leeks cooked until barely tender then simmered gently in cream until thickened. The aim is to keep the fresh green of the just-cooked leeks but with a lovely soft, melting consistency. This can be a side dish or an ingredient in lots of...
4,771
2
36 min.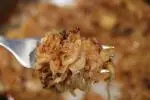 Onion fondue is a delicious classic of French cuisine: finely-sliced onions, cooked long and slow until they are melting and caramelized. This can be used in many other recipes.
3,633
50 min.