List of recipes using "Globe artichoke":
4 recipes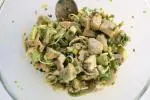 This fairly simple recipe combines slices of avocado, spring onions, diced chicken and artichoke hearts in a good vinaigrette dressing.
884 23 min.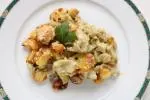 This hearty vegetable recipe uses the whole globe artichoke (heart and leaves), combining the creamy artichoke texture with the crunch of sautéed potatoes.
837 1 hour 18 min.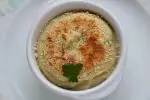 This is an artichoke recipe with a difference: we'll be using both heart and leaves, first steamed, then lightly sautéed before being blended with cancoillotte cheese to make a creamy purée. This is then browned in individual ramekins.
433 49 min.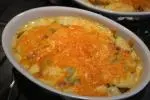 Purple artichokes cooked in two stages: first boiled, then sautéed, and baked as a gratin in a Mornay sauce (cheesy bechamel) with morsels of fried ham.
432 1 hour 29 min.