List of recipes using "Julienne":
8 recipes
List of recipes using "Julienne"

This pollack fillet is cooked in two stages: first pan-fried briefly to seal it and colour the outside, then baked gently in the oven in a parcel (en papillotte) on a bed of melting onions, julienne carrots and peas. This double cooking will give you a fish that's lightly crisped on the outside and...
157K
4.7
1 hour 40 min. January 23
th
2011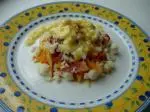 This recipe consists of delicate flakes ("petals") of poached fish, cooked with smoked ham, served on a bed of julienne vegetables (fine sticks of carrots, turnips and cabbage), with a "beurre blanc" sauce made with vinegar and shallots. Not difficult, but entails some work.
236K
4.3
1 hour 34 min. December 31
th
2013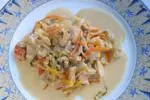 A "marmite normande" is a combination of different seasonal julienne vegetables and a mix of shellfish, rapidly sautéed, then deglazed with cider. The vegetables and shellfish are then simmered together in cream, which intensifies the flavours while it gently reduces and thickens. This recipe is...
37K
3
2 hours 13 min. January 9
th
2019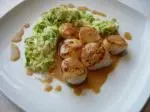 Pan-fried scallops in a sauce of their juices deglazed with a little Noilly Prat, served with a julienne of blanched cabbage in cream.
112K
4.6
1 hour 21 min. December 31
th
2013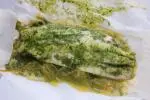 In this recipe, the fillets of sea bass are laid on a julienne of leeks (the white part), covered with a coriander cream sauce and cooked "en papillote".
42K
5
52 min. February 19
th
2017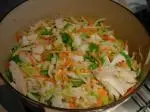 A julienne of vegetables (small sticks) mixed with choice morsels of fish, slowly cooked in vegetable stock.
281K
4.3
2 hours 36 min. December 31
th
2013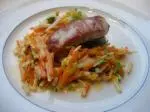 Pork loin is cut into individual portions, which are split and filled with herbs before cooking. They are served with crunchy julienne vegetables and a cream sauce.
332K
4.2
2 hours 33 min. November 27
th
2015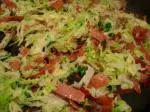 A quick recipe: cabbage julienne cooked English style, pan-fried ribbons of ham, a knob of butter and some parsley, and it's ready.
202K
3
4.1
27 min. December 31
th
2013