List of recipes using "Lasagna":
2 recipes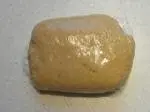 You can use this dough to make lasagne, ravioli, spaghetti, etc. - in fact, any fresh pasta you wish.
23,037
3.8/5 for 17 ratings 1 hour 13 min.

Lasagne is an Italian pasta that comes in rectangular sheets. These are used to separate layers of filling, like a large savoury oven-baked millefeuille. A bolognaise lasagne combines bechamel sauce, minced meat and tomato sauce.
51,471
4.4/5 for 16 ratings 2 hours 3 min.