List of recipes using "Nutmeg":
2 recipes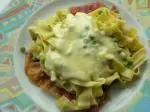 Pasta served like in NYC: tagliatelle or spaghetti with lightly fried ham, peas and a nutmeg-flavoured cream sauce.
20,207
4.3/5 for 15 ratings 46 min.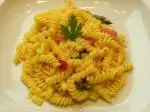 In this recipe, the pasta is cooked separately, then mixed with chunks of green asparagus, ribbons of smoked ham and a cream sauce with nutmeg.
21,703
3.9/5 for 11 ratings 1 hour 8 min.