List of recipes using "Papillote":
2 recipes

Vegetables cut in small dice and precooked, fish fillet, lemon juice, olive oil, and 2 minutes in the microwave.
88,772 2
3.8/5 for 11 ratings 1 hour 19 min.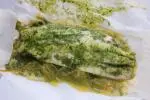 In this recipe, the fillets of sea bass are laid on a julienne of leeks (the white part), covered with a coriander cream sauce and cooked "en papillote".
4,893
5/5 for 12 ratings 52 min.