List of recipes using "Poached egg":
6 recipes
List of recipes using "Poached egg"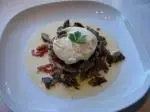 This recipe is not very complicated, but does involve some work: an artichoke heart with a layer of mushroom duxelle, a layer of fried bacon, topped with a poached egg and cream sauce. Everything can be prepared in advance (the day before for example), but the final assembly should be done just...
242K
5
2 hours 11 min. December 30
th
2019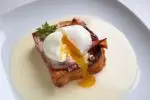 Eggs Arsène is a rather more rustic version (and definitely more Comtoise in style) of eggs Benedict , that indispensible breakfast dish in Ian Fleming's novels. And you're right, there is a nod to James Bond here.
28K
5
1 hour 2 min. October 25
th
2018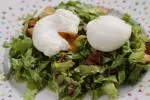 Salad lyonnaise conjures up the cuisine of the French city of Lyon and the region around: traditionally a salad of dandelion leaves with croutons, lardons and poached eggs. Here is a slightly simpler version with shredded lettuce instead of dandelions.
6,095
42 min. December 29
th
2021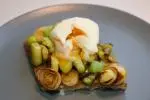 A slice of fried buttered bread with fried sliced leek, topped with a poached egg. For the best effect, split the egg open just before serving.
30K
4.8
31 min. September 18
th
2016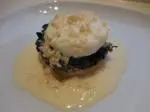 A "cake" of fried polenta, blanched spinach and a soft-poached egg on top, with a cream, shallot and white-wine sauce poured over just before serving.
52K
5
1 hour 11 min. June 3
rd
2018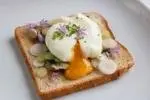 This is a French twist on that store-cupboard basic, sardines on toast: sardine fillets in oil and sliced spring onion, topped with a poached egg.
30K
4.7
15 min. June 1
st
2016