List of recipes using "Sorbet":
9 recipes

If you love the taste of blackcurrants (like Edith), this sorbet is for you...
68,427
4.9/5 for 18 ratings 23 min.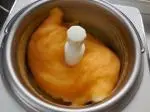 To capture the delicate flavour of clementines, we need to use not only the juice, but also a little zest to add a delicious hint of bitternes. Here's a simple method using sugar cubes.
11,838
4.3/5 for 15 ratings 2 hours 47 min.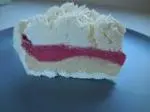 Ice-cream vacherin is a festive French dessert. It consists of two different flavours of ice cream (blackcurrant and vanilla here) sandwiched between two circles of meringue, topped with whorls of Chantilly (whipped cream) which is then frozen. It is not too complicated, but involves a bit of work...
14,913
4.5/5 for 12 ratings 8 hours 45 min.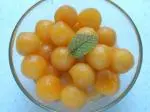 This recipe is a new twist on the classic melon with port: melon balls served on a bed of port sorbet.
19,325
4.9/5 for 18 ratings 49 min.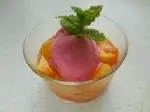 A delightful coupe combining mint-flavoured peaches with a scoop of blackcurrant sorbet.
10,897
3.8/5 for 11 ratings 55 min.

For a great pear sorbet, choose your fruit carefully: they should be perfectly ripe and full of flavour. You will get good results with williams, but any other variety of your choice will work.
72,892
4/5 for 11 ratings 54 min.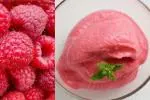 To make a seriously good raspberry sorbet, the fruit must be of the best quality, of course, but there is another little secret: you need to remove all the seeds to make a really smooth coulis. It is this smooth coulis that makes the sorbet so deliciously velvety.
4,803
4.6/5 for 15 ratings 2 hours 20 min.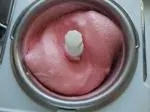 The secret of a good strawberry sorbet is to use first class strawberries, very ripe and full of flavour, so do choose them with care. This recipe shows you how to lighten the texture of the sorbet by incorporating air.
12,309
4.6/5 for 14 ratings 31 min.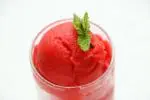 For this strawberry and mint-flavoured sorbet, we will be using an unusual method: blending the strawberries with mint leaves. This mixture is then left overnight for the flavours to mingle before being strained and then churned. This makes a delicious sorbet with its full-on strawberry flavour...
4,627
3.8/5 for 19 ratings 12 hours 26 min.