List of recipes using "Spaghetti":
8 recipes

Mussels and pasta cooked separately, then combined in a cream sauce made with the reduced mussel juices.
42,450
4.1/5 for 16 ratings 1 hour 40 min.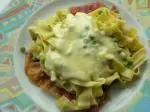 Pasta served like in NYC: tagliatelle or spaghetti with lightly fried ham, peas and a nutmeg-flavoured cream sauce.
20,818
4.3/5 for 15 ratings 46 min.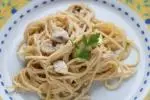 Your choice of pasta (spaghetti, penne or whatever) in a creamy sauce with mushrooms and shallots.
6,973
4.3/5 for 15 ratings 37 min.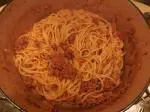 Spaghetti "bolognese" (after the town of Bologna, Italiy) is a well-known dish, but so often amounts to nothing more than pasta topped with minced meat in a plain tomato sauce. Here is a more traditional version, in which the sauce is made with tomatoes, herbs, red wine and - of course - meat.
13,300
3.8/5 for 21 ratings 1 hour 19 min.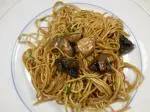 In this recipe, the mushrooms are cooked in the oven first and are then combined with the cooked spaghetti, shallots and dressed with white wine and soy sauce.
10,956
4.1/5 for 20 ratings 1 hour 3 min.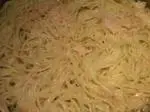 After cooking the spaghetti as usual, strips of smoked salmon are added with cream, lemon, Parmesan and egg yolks.
64,189
3.8/5 for 12 ratings 37 min.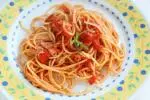 Here's a quick and simple solution when faced with the age-old question late on Sunday afternoon: "What are we going to eat tonight?".
4,213
4.8/5 for 10 ratings 28 min.

Classic pasta: tagliatelle mixed with courgette "spaghetti", and like for carbonara, with a sauce of egg yolks, cream, lemon juice and fried ham.
81,707
4.6/5 for 14 ratings 53 min.