List of recipes using "Tartine":
9 recipes
List of recipes using "Tartine"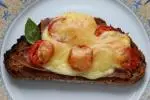 Ideal for a Sunday evening (but not limited to that), these generously topped slices are very simple to make with toasted bread, ham, tomatoes and Saint-Nectaire – and always go down well.
1,586
5
39 min. September 5
th
2021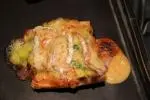 In this recipe slices of bread are topped with creamed leeks and slivers of Camembert before browning in the oven.
29K
4.8
21 min. March 6
th
2020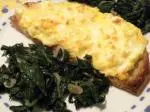 A slice of bread with a gratin of bechamel containing hard-boiled egg and topped with cheese, served with fresh spinach.
74K
4.1
1 hour 33 min. March 20
th
2013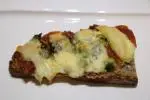 In this recipe, we'll be using just the tops of the onions, lightly fried, combined with fried ham and thinly sliced Morbier cheese..
18K
38 min. May 22
th
2019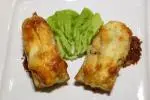 Slices of lightly toasted bread topped with sesame and tarragon cream, morsels of chicken and a little grated cheese. Just popped in the oven for a few minutes to brown. [Translator's note: in French, a tartine is simply a slice of bread spread with something (butter, jam...) or an open sandwich,...
14K
26 min. January 22
th
2020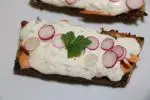 Scandinavian-style bread with smoked trout, and a fresh topping with herbs and shallots.
12K
28 min. February 19
th
2020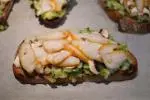 These tartines are built up with layers of leek fondue, sliced raw mushrooms and smoked haddock, then popped in the oven for a few minutes.
10K
31 min. April 15
th
2020

These oven-baked open sandwiches are topped with onions cooked in red wine, fried bacon and potatoes, finished with a thin layer of melted cheese.
80K
5
1 hour 20 min. March 11
th
2012

Tapenade is a classic of Mediterranean cuisine, basically a purée of black olives and olive oil. This version is little more sophisticated, with a less marked olive flavour.
163K
1
4.1
13 min. November 21
th
2010