List of recipes using "Tartine":
7 recipes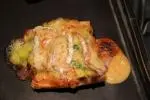 In this recipe slices of bread are topped with creamed leeks and slivers of Camembert before browning in the oven.
5,665
4.8/5 for 11 ratings 21 min.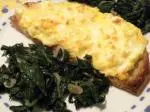 A slice of bread with a gratin of bechamel containing hard-boiled egg and topped with cheese, served with fresh spinach.
20,778
4.1/5 for 19 ratings 1 hour 33 min.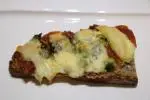 In this recipe, we'll be using just the tops of the onions, lightly fried, combined with fried ham and thinly sliced Morbier cheese..
1,080 38 min.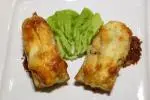 Slices of lightly toasted bread topped with sesame and tarragon cream, morsels of chicken and a little grated cheese. Just popped in the oven for a few minutes to brown. [Translator's note: in French, a tartine is simply a slice of bread spread with something (butter, jam...) or an open sandwich,...
475 26 min.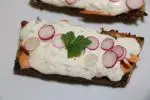 Scandinavian-style bread with smoked trout, and a fresh topping with herbs and shallots.
347 28 min.

These oven-baked open sandwiches are topped with onions cooked in red wine, fried bacon and potatoes, finished with a thin layer of melted cheese.
22,541
5/5 for 18 ratings 1 hour 20 min.

Tapenade is a classic of Mediterranean cuisine, basically a purée of black olives and olive oil. This version is little more sophisticated, with a less marked olive flavour.
48,036 1
4.1/5 for 16 ratings 13 min.