List of recipes using "Waffles":
2 recipes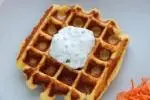 For potato waffles, the flour in the mixture for the sweet version is replaced with instant dried potato. This is a way of making delicious savoury waffles. Adding ribbons of smoked salmon, like here, turns them into a proper meal, though they can be also be served as an accompaniment.
6,713
4.5/5 for 11 ratings 39 min.

Liège waffles have a very distinctive texture: quite dense with the crunch of sugar crystals. They also have a characteristic form: round and fairly small. Then there's that special flavour that comes with the delicious light caramel crust.
62,280
5/5 for 1 ratings 1 hour 55 min.