List of recipes using "Balsamic":
3 recipes

In this colourful terrine, layers of avocado alternate with smoked salmon and diced tomato in balsamic vinegar.
52,286
5/5 for 1 ratings 4 hours 7 min.

A salad that combines crunchy almonds, tender broad beans, with the flavours of balsamic vinegar, parmesan and herbs.
76,201
3.8/5 for 17 ratings 35 min.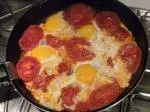 In this recipe, thick slices of tomato are cooked first, then the eggs are left to cook gently in the spaces between them. Particularly delicious served simply with a trickle of balsamic vinegar.
17,763
4.8/5 for 10 ratings 31 min.