List of recipes using "Boiled":
6 recipes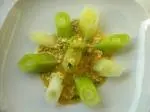 A classic dish of French family and bistro cooking. It's both simple and good. The secret lies in cooking the leeks until they are only just tender, so that they keep their lovely green colour. The special vinaigrette includes herbs and hard-boiled eggs.
37,237
4.3/5 for 15 ratings 45 min.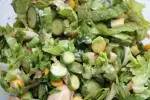 This salad is a way to make the most of the first baby courgettes (if you can get them). The crunchy little darlings are mixed with shredded lettuce, hard-boiled eggs, tinned tuna and diced cheese.
1,913 25 min.

These look like perfectly normal boiled eggs, but when the shell is cracked open - surprise! They contain a mixture of scrambled egg, cured ham, fried prawns and chives.
48,093
5/5 for 13 ratings 51 min.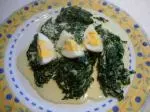 Fresh spinach, simply wilted, reheated in a sauce of thickened cream with shallot, and served with quarters of hard-boiled egg.
66,565
3.8/5 for 17 ratings 1 hour 43 min.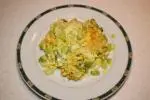 This gratin combines parboiled leeks with chopped hard-boiled eggs in thin layers.
6,860
4.1/5 for 20 ratings 49 min.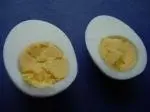 A hard-boiled egg is properly cooked when: shell is not broken, white and yolk are firm, yolk is only yellow with no traces of green around it. Here are some tips to make this easy.
98,049 6
5/5 for 3 ratings 1 hour 28 min.