List of recipes using "Fresh vegetables":
2 recipes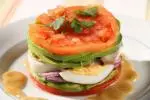 A stack ("pressé" in French) can be made of sliced vegetables or other ingredients piled up and pressed in a ring mould to keep them in shape. The ring is removed before serving. This stack consists of tomato, avocado, red onion, hard-boiled egg and anchovy fillets. Serve surrounded with with a...
7,912
5/5 for 13 ratings 30 min.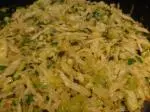 Just fresh vegetables, each sautéed in turn in olive oil, then combined with chopped spring onions and parsley.
12,535
4.1/5 for 16 ratings 1 hour 5 min.