List of recipes using "Gravlax":
2 recipes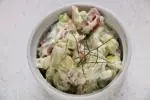 Diced avocado with morsels of gravlax salmon and cream cheese with herbs for a simple yet delicious starter.
6,422
4.5/5 for 11 ratings 18 min.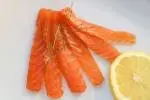 Gravlax is a Nordic speciality and consists of boned salmon dry-cured overnight in salt and sugar. The cured salmon can be eaten like smoked salmon, just with a trickle of lemon juice, or with a light sauce of cream cheese and herbs.
7,297
5/5 for 1 ratings 12 hours 21 min.