List of recipes using "Mousse":
10 recipes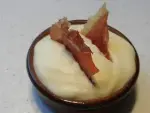 This is a rather tricky recipe in which foie gras is used to make a savoury cream, similar to a crème brulée but - of course - without sugar and without caramelizing the top. Instead, it is topped with an espuma (a light hot foam) of potatoes, garnished with crispy morsels of serrano ham.
30,813
3.8/5 for 11 ratings 3 hours 33 min.

A lightly spiced mousse, made with raw beetroot, with a layer in the centre of finely diced beetroot and roughly chopped walnuts. Discover or rediscover the taste of raw beetroot, very special and so "earthy".
89,616
5/5 for 1 ratings 47 min.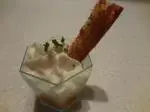 This sophisticated, smoky flavoured starter consists of an egg yolk, heated in a bain-marie and a smoked cream mousse with a scattering of chives, served with a buttered-toast "soldier".
10,588
4.9/5 for 12 ratings 12 hours 30 min.

A layer of light avocado mousse on a bed of crab meat in a herb rémoulade dressing.
39,138
5/5 for 13 ratings 35 min.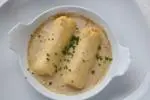 Mousselines are a lighter version of the classic French quenelles, but without breadcrumbs. They are poached first in fumet (fish stock), then served "en gratin" in sauce normande.
10,388 2
4.6/5 for 14 ratings 38 min.

Here is a simple quick recipe for chocolate mousse. It is just necessary to be careful at the final stage, when mixing the melted chocolate and the beaten egg-whites.
94,952
3.7/5 for 3 ratings 40 min.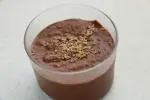 Here is a marvellous new chocolate mousse recipe that will delight real chocoholics. This is a rich, gourmet version, though not over-sweet and with the added crunchy texture of toasted hazelnuts. You'll love this one!
3,596
5/5 for 13 ratings 55 min.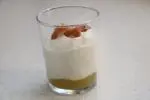 This delicious mousse is the perfect summer dessert: a delicate combination of stewed rhubarb and Italian meringue.
784 33 min.

It is common in cooking or pastry, having beaten whites mix preparation to another without making them completely fall, here are some tips to help you to.
11,975
4.3/5 for 15 ratings 10 min.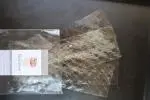 Gelatin is a gelling agent use in some desserts where a rather firm texture is required when cold. It can also be used to stabilize a dessert (mousses especially) that you need to keep longer than usual.
23,583
4.8/5 for 18 ratings 7 min.