List of recipes using "Romanesco":
3 recipes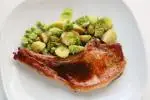 In this recipe, the pork chops are pan-fried and served with a sauce of the reduced pan juices and white-wine, and two different brassicas: Brussels sprouts and romanesco.
5,519
4.3/5 for 12 ratings 46 min.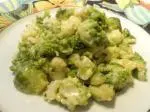 Four kinds of brassicas (Brussels sprouts, cauliflower, romanesco and broccoli), blanched separately, then combined to finish with cream and chopped parsley.
33,532
4.6/5 for 14 ratings 2 hours 41 min.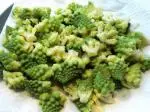 Here is how to take a whole romanesco and end up with small pieces ready to use in a recipe.
23,388 2
3.7/5 for 3 ratings 28 min.