List of recipes using "Sautéed vegetables":
1 recipes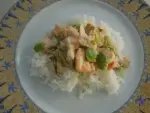 This simple blanquette is a creamy dish of pan-fried salmon chunks with fresh broad beans and mushrooms. Although it is just right for the start of summer, it can be made at any time of year.
9,898
5/5 for 1 ratings 59 min.