List of recipes using "Surprise":
2 recipes

These look like perfectly normal boiled eggs, but when the shell is cracked open - surprise! They contain a mixture of scrambled egg, cured ham, fried prawns and chives.
48,110
5/5 for 13 ratings 51 min.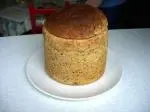 This recipe is for a large surprise bread so you can make six layers (48 small sandwiches if you divide each layer in 8), with three different flavours: smoked salmon/lime, smoked ham/butter, mayonnaise/chicken.
77,747 8
4.5/5 for 8 ratings 6 hours 24 min.