List of recipes using "Clafoutis":
7 recipes
List of recipes using "Clafoutis"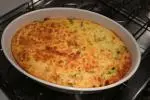 Clafoutis, the traditional French batter puddings, are normally sweet, but here is a savoury version: a layer of mixed vegetables (pre-cooked in this case) in a gratin dish with a cheesy mixture poured over, then baked in the oven. Here I have used diced carrots and courgettes, chopped onion, fried...
48K
4.7
1 hour 31 min. September 28
th
2016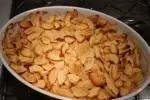 Imagine a gratin, but sweet, made with apples and toasted ground almonds. This delicious dessert combines apples and almonds with a vanilla custard-like mixture - simply yummy!
36K
4.6
1 hour 5 min. February 8
th
2017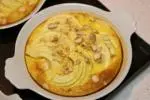 Similar to a traditional French "clafoutis", usually made with cherries, this simple apple and almond dessert is quick to make.
36K
4.8
41 min. March 30
th
2016

A clafoutis batter and cherries lightly cooked in sugar and Kirsch, then de-stoned. The clafoutis is baked in the oven.
119K
4.3
1 hour 17 min. June 19
th
2011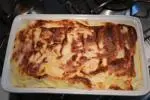 This "Marie-Antoinette" clafoutis is a lighter version of the traditional fruit-in-batter baked dessert, almost a soufflé, with apples and lemon. The apples are sautéed in butter and Calvados, then combined with a lemon-flavoured confectioner's custard, lightened with raw meringue. This mixture is...
27K
4.9
1 hour 17 min. November 1
st
2017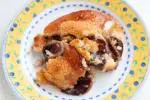 The classic French "financier" is normally a little cake, but it can also be made clafoutis-style over fruit in an oven-proof dish.
15K
1 hour 2 min. May 17
th
2020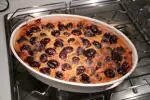 Here is a clafoutis that is quick to make, with a delicate blend of plums and pears. This recipe can be varied easily to use any good fruit in season.
28K
53 min. November 3
rd
2018