List of recipes using "Cooking bag":
2 recipes

Perhaps simplest recipe on this site, but what a result! The idea is to cook the bird, without fat, at low temperature, covered, and for a long time. In this way, the poultry cooks so as to be almost like a "confit": soft and very tasty. The effect is more spectacular with duck because it is a...
88,173
3.8/5 for 17 ratings 5 hours 12 min.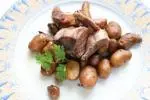 A succulent joint of pork, slow-roasted with herbs and served with baby potatoes cooked in the meat juices.
2,659 4 hours 37 min.