List of recipes using "Coulis":
7 recipes
List of recipes using "Coulis"

A little dessert that's rather long to make, but which will always impress your guests. Layered in a glass: a jellied red fruit coulis, a layer of pineapple charlotte cream, a layer of kiwi coulis, topped with a peeled clementine segment. It's "european" because it resembles the italian flag, and in...
211K
5
2 hours 29 min. August 15
th
2010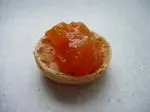 The macaroons recipe shows how to make these small cakes, and gives the example of a raspberry filling. Here are several other possibilities: Apricot macaroons, Chocolate macaroons, Mint macaroons, Blackcurrant macaroons.
269K
2
4.3
2 hours 1 min. May 30
th
2020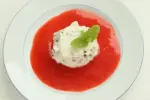 Impress your guests with this delightful dessert, a smooth mixture of meringue and dried fruit, which can easily be prepared several days beforehand.
252K
4.5
1 hour 28 min. February 21
th
2011

A small chocolate cake, still runny in the middle, served with a raspberry coulis.
308K
5
1 hour 21 min. October 3
rd
2010

This is a faily quick charlotte recipe. It begins, as usual, by soaking finger biscuits in syrup, in this case flavoured with lime. The charlotte is then assembled with alternate layers of Chantilly (whipped cream) and strawberries.
124K
5
3 hours 9 min. June 17
th
2012

Blackcurrants make a very good coulis, but it's a bit more difficult than with other fruits. Here is a simple method to help you succeed.
417K
2
3.5
25 min. February 21
th
2011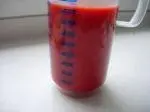 Contrary to what people usually think, coulis is not just a simple fruit purée with sugar. Of course, this is the general principle, but it's possible to make something much better and more refined. This recipe is for a strawberry coulis (see below for other fruits): how to make it, but also how...
730K
4
4
24 min. October 20
th
2012