List of recipes using "Courgettes":
8 recipes
List of recipes using "Courgettes"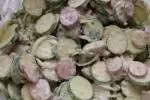 Early in the season, it is easy to find young courgettes that are still small and delightfully crunchy raw. They are ideal for this salad recipe, combined with radishes and tuna in a lemon mayonnaise.
18K
21 min. July 31
th
2019

Fried rounds of courgette in a puff pastry case with a feta and mint filling. You will find that this combination of feta with mint gives an agreeable fresh lift to this tart.
134K
4.1
1 hour 23 min. June 11
th
2011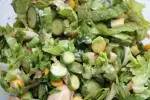 This salad is a way to make the most of the first baby courgettes (if you can get them). The crunchy little darlings are mixed with shredded lettuce, hard-boiled eggs, tinned tuna and diced cheese.
31K
25 min. June 5
th
2019

This summer tart has a puff pastry base topped with a rosette of sliced tomatoes and sautéd courgettes. For a more substantial dish, add some diced feta on top before cooking.
197K
4.2
2 hours 5 min. July 18
th
2010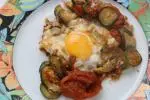 Melting courgettes with tomatoes and onions into which the eggs are slid carefully, without breaking the yolk, and cooked gently. The secret of success in this recipe is to combine the tomatoes and courgettes when they are really soft, and cook the egg white, leaving the yolk still runny.
54K
3.8
52 min. September 27
th
2015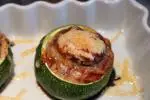 This is a relatively rapid way to prepare stuffed courgettes, using ready-made items that you can take out of the fridge or freezer at the last minute (or nearly).
25K
4.4
1 hour 6 min. September 17
th
2017

A classic recipe of French family cooking, but with a more sophisticated filling.
308K
3.8
1 hour 50 min. February 21
th
2011

Preparing courgettes is fairly simple. You just need to remember 3 things: 1) the bigger they are, the less good they will be, 2) they never need to be peeled, and 3) the central part with the seeds is pretty tasteless.
225K
1
3.8
29 min. June 8
th
2011