List of recipes using "Crackers":
4 recipes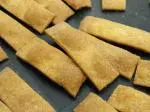 These crisp savoury biscuits are ideal for dipping into a sauce as an aperitif snack. It is quite easy to make your own crackers at home and they are much healthier and even more delicious than the commercial kind.
27,759 1
4.8/5 for 16 ratings 1 hour 38 min.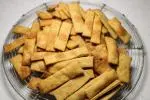 These are delicious little aperitif biscuits, really crisp and with the full-on flavour of pesto. They can be eaten on their own with dips, such as hot tomato or houmous.
6,186
4.1/5 for 18 ratings 1 hour 41 min.

This is a quick tomato sauce, just the thing for dipping crisps (chips, if you are American), or nachos. It is very similar to the sauce served with aperitif snacks in Tex-Mex restaurants.
23,681
4.1/5 for 16 ratings 42 min.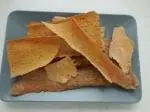 Papadums (pronounced "poppadoms") or papad are very thin, crisp Indian crackers. They are often served as an aperitif snack in Indian restaurants. The tricky part of making them at home is rolling them out thinly enough.
18,888
4.6/5 for 20 ratings 22 min.