List of recipes using "Dry fruits":
9 recipes
List of recipes using "Dry fruits"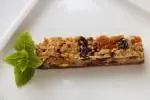 These have a chocolate sweetcrust pastry base, topped with dried fruit, toasted nuts and seeds, bound with a brown-sugar and butter mixture, then gently baked. Once the flapjack-like cake has cooled, it can be cut into bars.
14K
1 hour 18 min. July 11
th
2018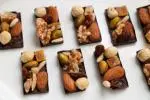 Mendiants are made with a thin layer of chocolate, stuck with toasted nuts, dried and candied fruit.
15K
1 hour 2 min. May 27
th
2020

A very thin disc of chocolate, topped with toasted nuts and candied grapefruit peel.
226K
4
2 hours 22 min. February 21
th
2011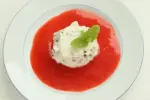 Impress your guests with this delightful dessert, a smooth mixture of meringue and dried fruit, which can easily be prepared several days beforehand.
244K
4.5
1 hour 28 min. February 21
th
2011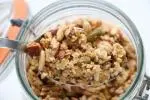 Granola is a tasty, crunchy cereal mix with nuts and seeds. Often thought of as an American version of muesli, it is bound with a little maple syrup and toasted in the oven. This is simple to prepare and goes well with lots of other things (dairy, fresh or stewed fruit, etc.) for a delicious...
17K
1 hour 5 min. November 10
th
2019

Whether bars or rounds, this recipe produces delicous small cereal cakes.
268K
4.9
1 hour 5 min. February 21
th
2011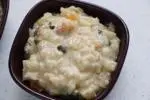 This is cooked like a normal rice pudding, but with fruit and nuts added halfway through: toasted almonds and pistachios, sautéed diced apple and strips of dried apricot. These added flavours and textures make an already creamy rice pudding even more delicious.
18K
4.5
1 hour 5 min. June 18
th
2017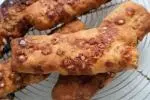 This curious name (explained below) applies to a small bread fingers made with a blend of wheat and rye flour, enriched with raisins and almonds.
21K
4 hours 32 min. February 4
th
2018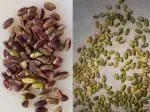 If you buy pistachios shelled but still in their skins (cheaper than ready peeled), you shouldn't use them like this. They need to be "skinned", removing the skin which is pretty unpleasant to eat. Here's a fairly easy way to do it.
31K
3.3
28 min. May 20
th
2020