List of recipes using "Franche-comté region":
3 recipes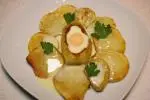 In this recipe from eastern France, an egg yolk sits inside a potato nest with a topping of hot cancoillote cheese. The nest is served with fried sliced potatoes.
6,287
3.8/5 for 19 ratings 40 min.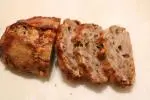 This speciality bread is full of all the character of the Jura: dry white wine (made with Savagnin grapes, of course), diced Comté cheese and toasted walnuts."Jurassic bread" was is first name... The loaves can be made long, as shown here, or as small rolls. This is ideal as an aperitif snack,...
4,326
4.4/5 for 12 ratings 6 hours 9 min.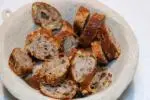 These crusty mini-baguetttes are generously dotted with diced Comté cheese, toasted walnuts and fried bacon bits. They are ideal for slicing and serving as an aperitif snack.
5,591
5/5 for 2 ratings 3 hours 51 min.