List of recipes using "Japanese pumpkin":
3 recipes

A smooth and fragrant soup, it's much better with potimarron (Japanese chestnut pumpkin) than ordinary pumpkin.
77,757
4.1/5 for 16 ratings 1 hour 10 min.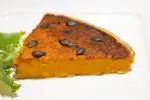 This moist tart has a shortcrust pastry case, filled with a mixture of potimarron purée and Parmesan, bound with egg.
2,490 2 hours 14 min.

Here is how to prepare a pumpkin for use in a recipe like the delicious potimarron soup.
58,201
4.6/5 for 14 ratings 25 min.