List of recipes using "Mayonnaise":
9 recipes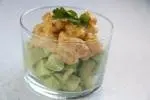 Just a classic prawn cocktail with avocado? Oh, no! The prawns in this recipe are sautéed briefly to enhance the flavour, then mixed with a curry mayonnaise.
7,435
4.3/5 for 15 ratings 30 min.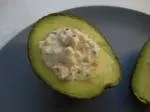 Here is a quick recipe for a simple starter: avocado, tuna, chopped herbs and mayonnaise.
11,343
5/5 for 1 ratings 12 min.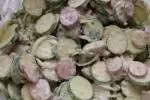 Early in the season, it is easy to find young courgettes that are still small and delightfully crunchy raw. They are ideal for this salad recipe, combined with radishes and tuna in a lemon mayonnaise.
1,794 21 min.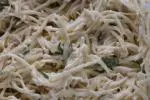 A classic recipe of traditional French bistro cooking (winter salad).
89,390
5/5 for 2 ratings 18 min.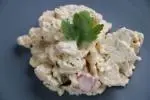 Crunchy slices of cauliflower and radish in a delicately flavoured lemon mayonnaise.
7,412
4.6/5 for 14 ratings 16 min.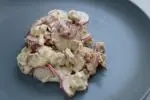 This salad combines the crunch of finely sliced radishes with tender cubes of chicken. The tang which lifts the flavour comes from fresh herbs and the dressing of lemon mayonnaise.
4,339
5/5 for 13 ratings 21 min.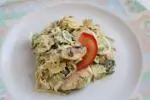 A mixed salad (avocado, artichokes, mushrooms and tuna) in a classic mayonnaise, but pepped up with a good dose of curry.
2,740 30 min.

Cocktail sauce is a spicy mayonnaise with cognac, Tabasco and concentrated tomato paste (or purée) added.
63,152
4/5 for 19 ratings 9 min.

This dressing is a kind of mayonnaise with vinegar, used for some salads like celeriac rémoulade. Usually it is prepared from mayonnaise, but here is another version, simpler and just as tasty.
102,992
3.9/5 for 17 ratings 6 min.