List of recipes using "Rhum syrup":
1 recipes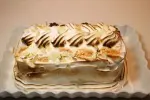 The name may be odd, but Baked Alaska is an elegant dessert. The core of this version is a "sandwich" of vanilla ice cream and blackcurrant sorbet between 2 layers of sponge soaked in rum-flavoured syrup. This is then covered in a layer of meringue and put in a very hot oven for just a few minutes...
6,189
4.3/5 for 12 ratings 6 hours 47 min.