List of recipes using "Savoury biscuits":
2 recipes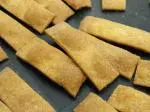 These crisp savoury biscuits are ideal for dipping into a sauce as an aperitif snack. It is quite easy to make your own crackers at home and they are much healthier and even more delicious than the commercial kind.
25,382 1
5/5 for 15 ratings 1 hour 38 min.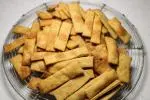 These are delicious little aperitif biscuits, really crisp and with the full-on flavour of pesto. They can be eaten on their own with dips, such as hot tomato or houmous.
4,752
4.1/5 for 18 ratings 1 hour 41 min.