List of recipes using "Skin":
6 recipes

These chips (French fries) are made from potatoes steamed then fried in their skins. Usually we make big ones (3 times the usual French fry) and serve 2 or 3 per guest.
75,790
4.1/5 for 16 ratings 1 hour 19 min.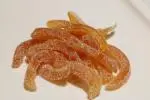 Not really a dessert, more a kind of sweet. After soakiing, strips of grapefruit skin are cooked very slowly to conservethem in sugar. It's a real treat with coffee at the end of a meal.
81,324 1
4/5 for 2 ratings 1 day 1 hour 21 min.

Usually French chefs says "peler à vif", which means to completely peel the fruit (removing skin and core) and keep only the very best of the flesh. Here is a method for grapefruit, but it can be used for all the other citrus fruit, and many other fruits.
36,569
4.3/5 for 10 ratings 32 min.

For most recipes it is necessary to completely peel the pineapple, and to keep only the flesh which is then often cut into small pieces. Here is a method.
35,881
3.7/5 for 19 ratings 20 min.

Here is how to get from an avocado only the flesh of the fruit.
24,497 1
4/5 for 2 ratings 11 min.

Yes, I know you will say to me: why peel tomatoes? The answer is very simple: it's much better, gives a better texture, softer in the mouth. The skin is tough, adds nothing to the taste (and you will have noticed that commercial tomatoes have practically no taste), and finally it's there (on/under...
88,608 2
4/5 for 8 ratings 40 min.