List of recipes using "Verrine":
7 recipes

Little verrines filled with a mixture of cottage cheese (fromage blanc), cream and coriander with diced radish, gherkin and shallot.
34,977 2
4.8/5 for 12 ratings 41 min.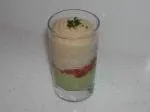 This starter recipe, served in a glass, consists of four tiers of different vegetable preparations. Each can be made the day before, and it's only the assembly that is tricky.
77,528
5/5 for 10 ratings 1 hour 36 min.

A layer of light avocado mousse on a bed of crab meat in a herb rémoulade dressing.
39,643
5/5 for 13 ratings 35 min.

Vanilla-lime, confectioner's custard and blackcurrant coulis, topped with a layer of whipped cream (chantilly) and dusted with a little matcha green tea powder. Light and flavoursome.
56,829
4.9/5 for 19 ratings 1 hour 9 min.

A little dessert that's rather long to make, but which will always impress your guests. Layered in a glass: a jellied red fruit coulis, a layer of pineapple charlotte cream, a layer of kiwi coulis, topped with a peeled clementine segment. It's "european" because it resembles the italian flag, and in...
70,804
5/5 for 1 ratings 2 hours 29 min.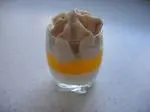 This is a fresh-flavoured verrine with 3 different flavoured layers: vanilla panna cotta, clementine and chestnut mousse.
60,048 1
5/5 for 1 ratings 25 min.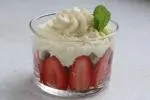 Chopped kiwi with lemon, ripe strawberries and smooth mascarpone cream.
6,672
5/5 for 13 ratings 22 min.