List of recipes using "Vinaigrette":
7 recipes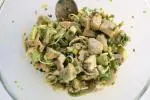 This fairly simple recipe combines slices of avocado, spring onions, diced chicken and artichoke hearts in a good vinaigrette dressing.
909 23 min.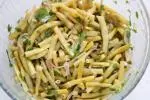 A very simple recipe for a salad of green (or yellow) French beans: The beans are boiled first, then thoroughly drained and served mixed with herbs, chopped shallot and a good vinaigrette (french dressing).
6,333
4.6/5 for 14 ratings 35 min.

Mixed salad is one of those simple but delicious summer recipes which go so well with a barbeque. It's a mix of several fresh vegetables, herbs and French dressing (vinaigrette).
69,729
4.6/5 for 14 ratings 1 hour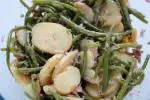 This rustic traditional dish (literally "peasant salad") combines cold sliced potatoes and green beans (cooked separately) with chopped red onion and fried lardons. The salad is finished with a vinaigrette dressing and parsley, or your choice of herbs.
1,690 17 min.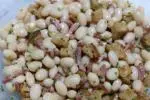 Melt-in-the-mouth haricot beans, pan-fried lardons and croutons with chives and a good vinaigrette dressing.
4,064 36 min.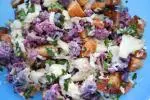 Not quite "surf and turf", but land meets sea in this salad which combines poached fish with cauliflower and buttery fried croutons.
5,040
4.3/5 for 11 ratings 45 min.

Here is a very simple recipe, but it could completely transform, maybe even transcend, your salad.
107,802
4.5/5 for 2 ratings 7 min.