List of recipes using "Water":
8 recipes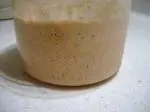 Leaven is a natural raising agent, a fermented mixture of water, flour and the microscopic yeasts which are present in the air. It's a delicate living substance, sensitive to the external environment. The recipe is around 4000 years old and dates back to the Egypt of the Pharaohs, via a beautiful...
210,682 28
4.1/5 for 31 ratings 7 days 15 min.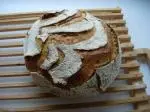 The idea for this bread was inspired by an amusing coincidence: the proportion of salt needed for good bread is 35 g of salt per litre of water, which just happens to be the exact concentration of salt in the Atlantic Ocean. So it's possible to make bread using sea water to provide all the salt...
48,516 6
4/5 for 1 ratings 5 hours 7 min.

This syrup is mainly used as a basis for all sorbet recipes, which consist of this syrup and fruit pulp, but it can be also used to soak biscuits for example, or for fruit salads.
119,312
5/5 for 1 ratings 8 min.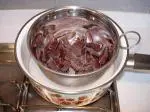 A bain-marie is the best way to cook or heat a preparation gently without risk of burning.
23,527
5/5 for 2 ratings 7 min.

When using strawberries in a recipe, the usual way is to soak in water, which is actually a very bad idea. Just look at how to preserve them here.
38,896
5/5 for 1 ratings 10 min.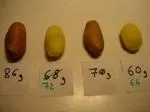 Boiling potatoes has given rise to two sayings: 1) You should not peel potatoes before boiling. 2) You should not leave potatoes to cool in the cooking water. The first suggests that potatoes should be always cooked in their skins, to prevent water penetrating and making the potatoes go soft and...
37,175 3
4.3/5 for 15 ratings 30 min.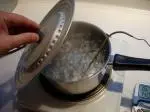 Tradition says: "One should always cover a pan while heating". In other words, if you heat water (or something else), it comes to the boil faster with a lid on the pan than without. True or false? Let's try the experiment...
9,954 1
5/5 for 1 ratings 1 hour 20 min.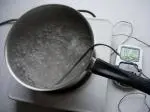 Is it better to salt cooking water, for vegetables for example, at the beginning when it is cold or when it boils? I always heard that one should salt "after", when water is boiling, because if it is salted "before" it will take longer to boil. True or false? Let's try the experiment...
8,233
4/5 for 1 ratings 12 min.