List of recipes using "Anglaise":
2 recipes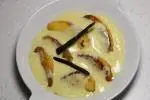 Apples sautéed in butter and sugar, then flambéed in Calvados (from Normandy) and served with real custard.
5,079
1/5 for 1 ratings 38 min.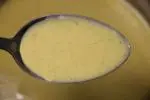 Real custard or vanilla sauce consists of egg yolks beaten with sugar and cooked slowly in vanilla milk. It is the base or the accompaniment for many desserts.
120,939 2
4.3/5 for 4 ratings 44 min.