List of recipes using "Boiling":
2 recipes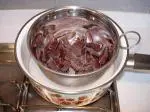 A bain-marie is the best way to cook or heat a preparation gently without risk of burning.
23,527
5/5 for 2 ratings 7 min.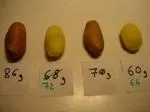 Boiling potatoes has given rise to two sayings: 1) You should not peel potatoes before boiling. 2) You should not leave potatoes to cool in the cooking water. The first suggests that potatoes should be always cooked in their skins, to prevent water penetrating and making the potatoes go soft and...
37,175 3
4.3/5 for 15 ratings 30 min.