List of recipes using "Cherry":
3 recipes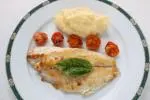 A fillet of blackspot sea bream (though you can use another fish), fried rapidly and served with a creamy cheese polenta and sautéed cherry tomatoes.
5,321
4.3/5 for 15 ratings 23 min.

Black Forest gateau is a sophisticated dessert which comes from Germany. It is essentially a combination of four flavours: chocolate, cherries, cream and kirsch. Here is my own version.
32,138
4.6/5 for 11 ratings 2 hours 32 min.

The French "griottines" are delicious little wild morello cherries, stoned and macerated in a Kirsch syrup, used here in individual vanilla charlottes.
63,601 1
5/5 for 13 ratings 4 hours 49 min.