List of recipes using "Crème brulée":
1 recipes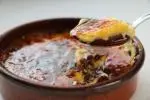 This crème brûlée recipe is a sophisticated combination in three layers: chocolate ganache, vanilla custard, and, of course, a delicious thin crust of caramel. It is more complicated than a simple chocolate crème brûlée, but well worth the effort when you see your guests' reactions.
8,014
5/5 for 1 ratings 1 hour 59 min.